Theaterversie van Stranger Things: The First Shadow
Netflix kondigt de komst aan van een exclusieve theaterversie van Stranger Things. Naar een origineel verhaal van de Duffer Brothers, Jack Thorne en Kate Trefry, krijgt Stranger Things: The First Shadow eind 2023 zijn wereldpremière in het Phoenix Theatre in het Londense West End. Het nieuwe theaterstuk is geschreven door Kate Trefry, schrijver en producer van de tv-serie Stranger Things, en vindt zijn oorsprong in de mythologie en wereld van het wereldwijde Netflix-fenomeen.
"We are beyond excited about Stranger Things: The First Shadow. Collaborating with the brilliant Stephen Daldry has been nothing short of inspiring, and Kate Trefry has written a play that is at turns surprising, scary, and heartfelt. You will meet endearing new characters, as well as very familiar ones, on a journey into the past that sets the groundwork for the future of Stranger Things. We're dying to tell you more about the story but won't – it's more fun to discover it for yourself. Can't wait to see you nerds in London!"Matt and Ross Duffer
Over Stranger Things: The First Shadow
Hawkins, 1959: een doodnormaal stadje met gewone zorgen. De auto van de jonge Jim Hopper wil niet starten, de zus van Bob Newby neemt zijn radioshow niet serieus en Joyce Maldonado wil gewoon afstuderen en de stad uit. Wanneer de nieuwe student Henry Creel arriveert, ontdekt zijn familie dat een nieuwe start niet zo eenvoudig is… en dat het verleden je altijd blijft achtervolgen.
Dit nieuwe theateravontuur, tot leven gebracht door een meermaals bekroond creatief team, wordt met high end technologieën naar een geheel nieuwe dimensie getild. Het brengt je terug naar het begin van het Stranger Things verhaal – en bevat mogelijk de sleutel tot het einde.
Kaarten theatershow
Kaarten voor de theatershow gaan dit voorjaar in de verkoop. Fans kunnen zich vanaf vandaag registeren voor priority access via strangerthingsonstage.com. Meer informatie over de kaartverkoop, het speelschema, het volledige creatieve team en de cast worden op een later moment bekendgemaakt.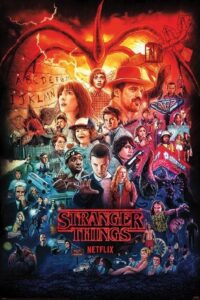 Over de serie Strange Things
Stranger Things, gecreëerd door de Duffer Brothers, debuteerde op 15 juli 2016 op Netflix. Het vierde seizoen (uitgebracht in 2022) staat met 1,35 miljard kijkuren op #1 in de Netflix Most Popular English TV-lijst. Het derde seizoen dat in 2019 werd uitgebracht staat nog steeds op #6 met 582,1 miljoen kijkuren. De serie heeft wereldwijd meer dan 70 awards gewonnen, waaronder Emmy's en de Screen Actors Guild Award for Outstanding Performance by an Ensemble in a Drama Series, en is genomineerd voor meer dan 230 prijzen. Onlangs werd het recordbrekende vierde seizoen van Stranger Things lovend ontvangen tijdens het grootste premièreweekend voor een Engelstalige tv-show op Netflix ooit.
Zin om te streamen? Ga snel naar Netflix!
"The world and mythology of Stranger Things has enabled a rich and fertile ground for creating an incredible story for the stage. The Duffer Brothers have built a huge global following for good reason, and a world-class creative team has built on their boundless imagination to dream up an unbelievably exciting theatrical event for our audiences. Set within the canon of Stranger Things, this new play opens in London, with the West End hosting the only place in the world to experience this new story – for now. I'm thrilled to reunite with my visionary long-term collaborator Stephen Daldry. Together, with our brilliant Netflix partners, we can't wait to welcome Stranger Things fans into theatre, and theatregoers into the realm of Stranger Things."Sonia Friedman
Over de makers
Stranger Things: The First Shadow wordt geproduceerd door Netflix en Sonia Friedman Productions. De regie is in handen van Stephen Daldry met Justin Martin als co-regisseur. De Duffer Brothers fungeren als creatieve producenten, met 21 Laps als associate producer.
Regisseur: Stephen Daldry
Co-regisseur: Justin Martin
Set design: Miriam Buether
Kostuumontwerp: Brigitte Reiffenstuel
Licht: Jon Clark
Geluid: Paul Arditti
Illusions design: Jamie Harrison & Chris Fisher
Video-ontwerp: 59 Productions
Bewegingsregie: Coral Messam
Pruiken, haar en make-up: Campbell Young Associates
Casting: Charlotte Sutton CDG
International casting consultancy: Jim Carnahan
Technisch regisseur: Gary Beestone voor Gary Beestone Associates
"Stranger Things has captured the imagination of fans around the world and we are incredibly thrilled to expand this exciting universe with Netflix's first live stage production. With the creative talents of Matt and Ross Duffer combined with Sonia Friedman and Stephen Daldry, theatregoers will be swept up in a truly epic event worthy of Stranger Things."Greg Lombardo, VP Live Experiences bij Netflix